California

Quadrille

Association
CQA Central Office
Bonni Kelley, Executive director
1225 Manning CT San Martin,CA 95046
(408) 461-0910
neptunefarm@earthlink.net
Contact for: Handbooks, Rosters, Quadriller News, membership, and any other information

Quadrille is fun!
Quadrille is entertaining and beautiful!
Quadrille is a competitive sport!
Quadrille is nationally organized by USDF

California Quadrille Association was started in 1987 to foster growth
through education and recognition and is the only group of its kind at
this time in the United States.

Business meetings, educational events, and a Championship show are annual events. News and information is distributed through the newsletter,
The Quadriller (some issues available online).


Teams of 4: Four is MORE!!
President Michele / Purpora-Tardi - (818) 899-4535 fax(818) 686-3557 robelfarms@netzero.net
Vice President / Jennifer Westoby - (408) 776-1586 tpfarm@verizon.net
Treasurer / Janice Mulhern - (408) 846-5394 hantise@aol.com
Executive Director -Central Office / Bonni Kelley (408) 461-0910 neptunefarm@earthlink.net

Regional Directors
Southern / Melinda Hallmark (818) 563-1243 mehallmark@spooliehorse.com
Central Coast / Barbi Breen-Gurley (805) 528-0222 Barbi@SeaHorseRanch.com
Central / Marilyn Rickman (209) 559-2972 mjr.edenranch@juno.com
Out of State North (Reno) / Zena Ervin (702) 853-1262
Out of State South (AZ) / Gail Newbury (480) 471-7525 gnewbury@att.net
Technical Adviser / Liz Searle (831) 623-4446
Quadriller Editor / Jane Escola (209) 728-2559 Fax (290)728-8968 Eskoji@goldrush.com

---




The Riding Company (above)

Julianne Veach on Warlock, a TB gelding
Anna Collins on Top Priority, an Anglo-Trak. gelding
Tkeisha Baird on JJ Star, a QH/Paint mare
Jessica Smyth on Chrystal, a pony mare





What is Quadrille?

A team of 4 is the competitive format of quadrille although teams of 6, 8, or more have been active in past demonstrations. While in dressage competition the elegance and movement of the horse is prioritized, in the quadrille competition, the main criterion is the team's performance as a cohesive group. Also, while performed in a dressage arena, using tests that are similar, many groups perform in western tack and equipment.

Compulsory routines test the team's ability to perform required movements according to acceptable standards.

In the exciting freestyle, the routines get more complex, creating a "kaleidoscope effect" as horses interweave choreography and music in original patterns.

In each format, judges look for the teams to keep even spacing (from horse to horse), move and turn in synchrony and maintain alignment throughout the ride. In the freestyle competition, the team's artistic skill is showcased in the interpretation of the music and the creativity of their choreography.

Although quadrille as an equestrian pageant has been performed since the Baroque period (most notably at the Spanish Riding School), only in the last decade has it become a competitive sport in the United States.

The California Quadrille Association is the founding organization dedicated to educating riders about this growing and beautiful equestrian sport. The United States Dressage Federation (USDF) writes the national tests for quadrille and now offers an award system for registered teams (starting in competitive year 2000).
Back to Top of Page

---
2005 CQA Championships
September 9th, 10th and 11th




The CQA holds annual statewide championships with teams vying for top honors in the compulsory and freestyle rides.




Back to Top of Page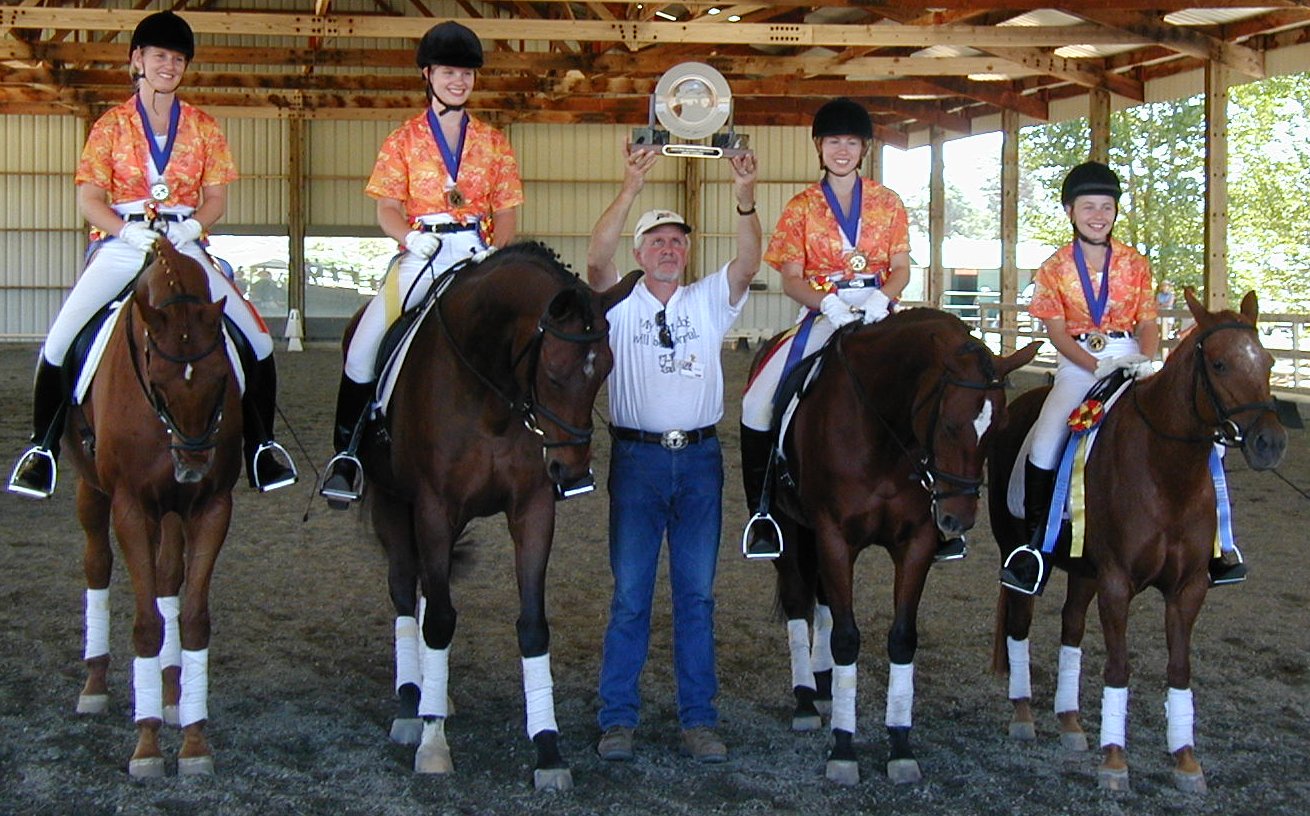 ---
Upcoming Events, Clinics & Seminars
All relevant quadrille events may be listed here at no charge. Please contact the CQA Central Office to list yours!
~ ~ ~
Local Quadrille Challenge Day

June 5th, 2005
Come play with us! A friendly quadrille challenge with BBQ and social hour
at American Sporthorse in Watsonville, CA

Call 831-728-5004 for more details. Spectators welcomed at no charge.

---
Craving some pomp & circumstance?
Ride QUADRILLE!
| | |
| --- | --- |
| Chelsey Sibley and Vosmaer preparing for the Carrousel historical ride re-enactment (2000) | |

Chelsey and Creeky Routson practice
Back to Top of Page

---
Photos
Scenes from past CQA Championships
All photos courtesy of Kirsty's Classic Photography, San Juan Bautista, CA.
Reprints available. Please send your quadrille photos to the webmaster or CQA Secretary!





Back to Top of Page

---

This webpage designed and maintained by Anne Howard, last updated 5/7/2005